Where Does Cantaloupe Grow? Best Place and Conditions for Planting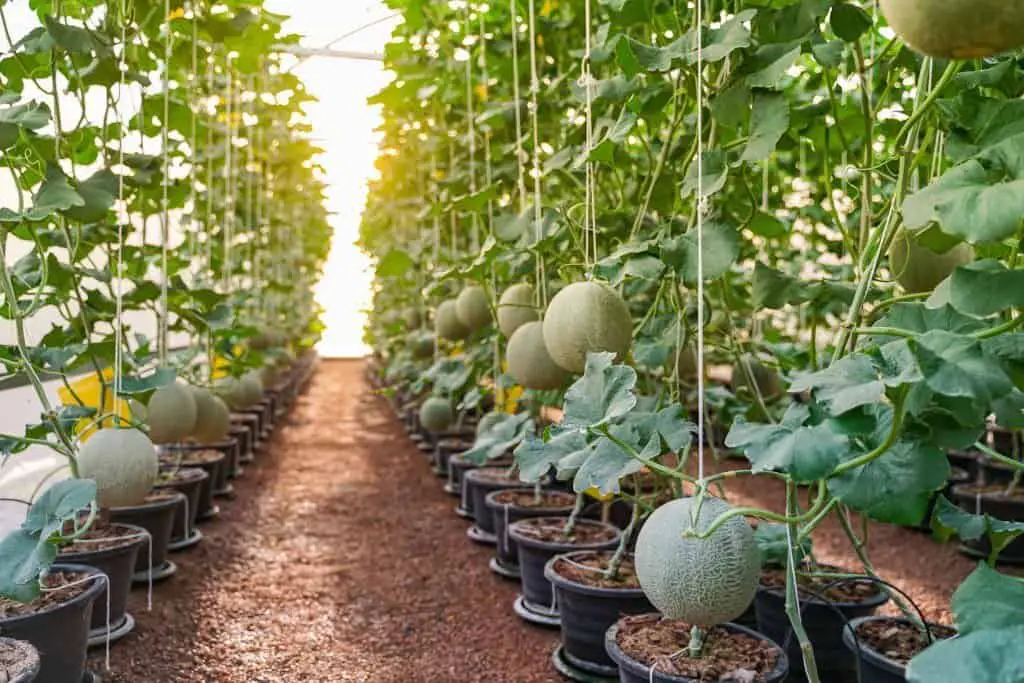 If you're looking to grow your own cantaloupes, you might be wondering where the best place is to plant them and what conditions they need to thrive. 
Cantaloupes are a delicious and nutritious fruit that can be grown in a variety of settings, from small home gardens to large commercial operations. But the key to success is picking the right place and making sure your plants have the best conditions to grow. 
In this blog post, we'll explore the best places and conditions for planting cantaloupe, so you can enjoy a bountiful harvest of this tasty fruit. Whether you're a seasoned gardener or just starting out, you're sure to find some useful tips and insights here. So, let's dive in and discover where cantaloupes grow best!
Where Does Cantaloupe Grow?
Cantaloupes are a popular fruit that can be grown in a variety of settings, from large-scale commercial operations to small home gardens. One of the advantages of growing cantaloupe in a home garden is that it allows for greater control over the growing conditions, which can result in a better crop. 
Home gardeners can choose the best location for their cantaloupe plants, taking into account factors such as soil type, sun exposure, and moisture levels. Cantaloupe can also be grown in containers or raised beds, making it a great option for those with limited outdoor space.
Small-scale farming operations can also be a great way to grow cantaloupe. By focusing on a smaller area, farmers can give more attention to each individual plant, resulting in a higher quality crop. Small farms may also have the advantage of being able to sell their cantaloupe locally, either at farmers' markets or through direct sales to restaurants and grocery stores.
Cantaloupe can also be found growing in large-scale commercial operations, both on the ground and in raised beds. These operations typically use specialized equipment to plant and harvest the fruit, and may also use irrigation systems to ensure that the plants receive a consistent supply of water. 
Even though commercial operations can't give each plant the same level of care as home gardens or small farms, they can still make enough cantaloupe to meet the needs of people all over the world.
Ideal Conditions for Cantaloupe to Grow (Climate, Soil, Rain)
Cantaloupes are a warm-weather crop that requires specific growing conditions to thrive. While they can be grown in a variety of regions, the ideal conditions for cantaloupes to grow are a combination of a good climate, good soil, and rain.
The first key factor for growing cantaloupes is climate. To grow, these fruits need warm weather, and the soil needs to be at least 60 °F for the seeds to sprout. 
Cantaloupes also need a long growing season. From planting to harvest, it should take between 80 and 100 days. Cantaloupes grow best when the air temperature is between 70 and 85 °F, and they need to be in full sun to do well.
The second crucial factor for cantaloupe growth is soil. These fruits prefer well-drained soils that are rich in organic matter. Cantaloupes also require a soil pH between 6.0 and 6.5 for optimal growth. You should give the soil a lot of nutrients, especially nitrogen and potassium, which are essential for fruit growth.
Lastly, rain is important for cantaloupe growth because they need a steady supply of water all through the growing season. Ideally, cantaloupes need 1-2 inches of water per week, either through rainfall or irrigation. But you should not water too much because that can cause fungal diseases and other problems.
Planting Cantaloupe in Raised Beds Vs. In-Ground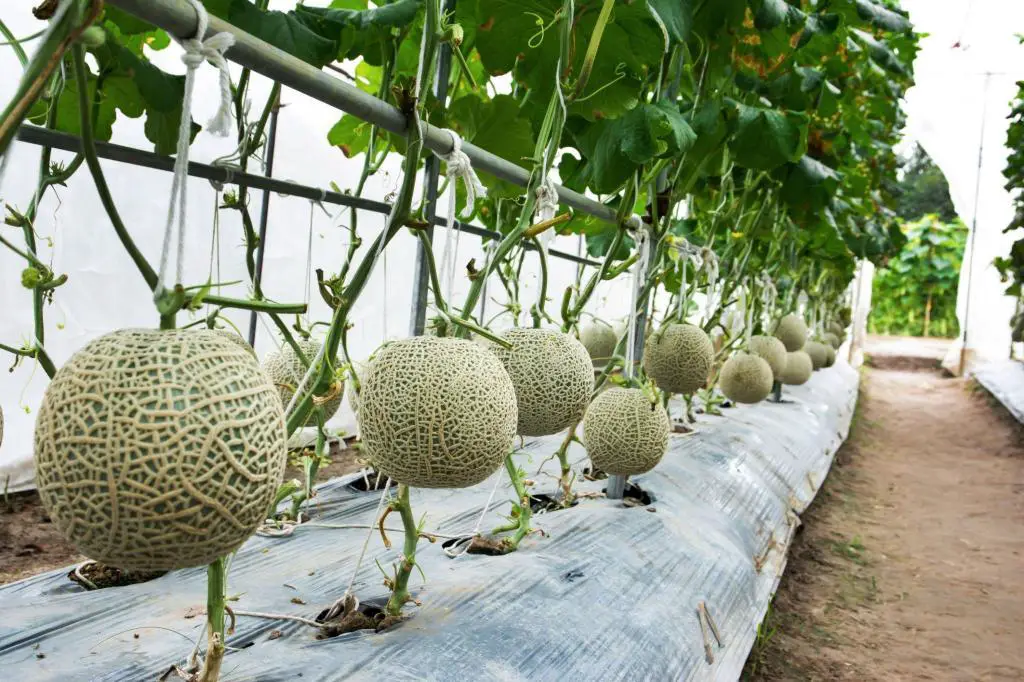 When it comes to planting cantaloupe, you have two main options: in raised beds or in the ground. Each method has its own benefits and drawbacks, so it's important to consider which one will work best for your particular situation.
Raised Beds Cantaloupe
Raised beds are a popular choice for many gardeners because they offer several advantages. For one, they allow you to control the soil quality and drainage more easily, which can be particularly important if you're dealing with heavy clay or poorly draining soil. 
Raised beds also make it easier to keep weeds under control because the plants are kept in one area and can be weeded and cared for more easily.
In-Ground Cantaloupe
On the other hand, planting cantaloupe in the ground can also be a good choice for some gardeners, particularly those with larger plots of land. In-ground planting allows the cantaloupe vines to spread out more freely, which can lead to larger fruit yields. If you have particularly fertile soil, you may not need to amend it as much as you would with a raised bed.
| | | |
| --- | --- | --- |
| Soil drainage | Raised beds have better drainage due to their elevated design. | In-ground planting requires well-draining soil to prevent waterlogging and root rot. |
| Weed control | Raised beds provide easier weed control since they are filled with new soil and compost, without pre-existing weed seeds. | In-ground planting requires consistent weeding to prevent competition for nutrients, light, and moisture. |
| Growing space | Raised beds offer flexibility in space since they can be built to fit any size of garden, and plants can be spaced closer together, which maximizes yields. | In-ground planting requires a large space to allow for the vining habit of cantaloupe plants and proper air circulation to prevent diseases. |
Regardless of which method you choose, there are a few key things to keep in mind when planting cantaloupe. 
First, make sure to choose a spot that gets plenty of sunlight and has good drainage. Cantaloupe plants require lots of water, but they don't like to be constantly waterlogged, so make sure to water them deeply and infrequently rather than with lots of shallow watering sessions. With the right growing conditions, you'll be able to enjoy sweet, juicy cantaloupes all season long!
Planting Cantaloupe in Garden or Farm
Cantaloupe is a warm-season crop that thrives in well-draining, fertile soil with plenty of sunlight. There are a few important things to think about when planting cantaloupe in a garden or on a farm to make sure the crop is healthy and productive.
First, choose a site with full sun exposure, which is at least 6 hours of direct sunlight per day. Cantaloupe plants require warmth and sunlight to grow and produce sweet, juicy fruit. 
The soil should be well-draining, rich in organic matter, and have a pH of 6.0 to 7.5. 
If the soil is too heavy or compacted, add some compost or sand to improve drainage.
Make sure the soil is at least 70 °F when you plant cantaloupe seeds or seedlings.
Cantaloupe plants can be started indoors several weeks before the last expected frost, or they can be directly seeded in the garden after the soil has warmed up. 
If planting in rows, space the plants 18 to 24 inches apart and allow 6 feet between rows. 
If planting on hills, sow three to four seeds per hill and space the hills 4 to 6 feet apart. 
Once the plants have emerged, thin them to one or two plants per hill or space them according to row planting recommendations.
It's important to keep the soil moist but not soggy, especially when the plants are producing fruit. A layer of organic mulch, such as straw or leaves, can help retain moisture in the soil and keep weeds at bay. 
Cantaloupe plants also benefit from regular fertilization throughout the growing season. Follow the instructions on the package and use a balanced fertilizer, like 10-10-10, every 3 to 4 weeks. If you plant cantaloupe in a garden or on a farm and take good care of it, you can get a lot of tasty, juicy fruit.
What Countries Grow Cantaloupe?
Cantaloupe is grown in various parts of the world, but some countries have emerged as the top producers of this juicy fruit. China tops the list of cantaloupe-producing countries, followed by Turkey, the United States, Iran, and Kazakhstan. China makes the most cantaloupes in the world. Its climate is perfect for growing this fruit because it is both temperate and subtropical.
Moving on to Europe, Spain and Italy are major producers of cantaloupe. The town of Torre Pacheco in the Spanish region of Murcia is known for its cantaloupe, which is grown using modern techniques to make sure it is of high quality and tastes good. Similarly, the Italian region of Lazio is known for its sweet and juicy cantaloupe, which is popular all over the world.
South America is also a big player in cantaloupe production. Brazil, Peru, and Ecuador are among the top cantaloupe-growing countries in the region. Cantaloupes from these countries are known for being sweet and having a unique taste that comes from the climate and soil in the area.
What States in the US Grow Cantaloupe?
Cantaloupe is grown in many states in the United States, but California is the biggest producer. In California, cantaloupes are grown in the southern desert valley from late December through March and harvested from May through early July. 
The San Joaquin Valley is another major area where cantaloupes are grown, with planting beginning in February and continuing through July, followed by harvest from late June through October.
Other US states that are known for growing cantaloupes include Arizona and Texas.
Where Do Cantaloupe Come From?
Cantaloupes are believed to have originated in either India, Persia, or Africa and have been cultivated for thousands of years. It is known that the ancient Greeks and Romans liked this fruit because it is mentioned in writings and art from that time. The name "cantaloupe" comes from Cantalupo, an Italian town near Rome where the Pope's summer estate was located.
Cantaloupes belong to the Cucurbitaceae family, which also includes cucumbers, pumpkins, and other types of melons. They are classified as Cucumis melo, and there are different varieties of cantaloupes with varying shapes, sizes, and flavors. 
The melon has a rough, net-like outer skin, and its flesh is sweet, juicy, and fragrant. The color of the flesh can range from pale green to salmon, and the texture can be firm or soft, depending on the ripeness of the fruit.
Cantaloupes grow best in warm climates and require plenty of sunshine to produce fruit. They are typically planted in the spring and summer and take around 75 to 100 days to mature, depending on the variety. 
They are known for their ability to thrive in dry conditions and are often grown in sandy soils. While they are commonly grown in the United States, cantaloupes are also grown in many other parts of the world, including Europe, Asia, and South America.
Where Do Cantaloupe Grow Naturally?
In their natural state, cantaloupe plants are annuals that require warm weather and plenty of sunshine in order to thrive. They also need well-draining soil that is rich in nutrients, as well as regular watering to keep the soil moist.
One place where cantaloupes can be found growing naturally is in the Mediterranean region. The warm, sunny climate and fertile soil in countries like Greece, Italy, and Turkey make these areas ideal for cantaloupe growth. In fact, many of the world's top cantaloupe producers are located in the Mediterranean basin, with Spain being one of the biggest.
Another region where cantaloupes naturally grow is Central America, specifically in the countries of Mexico and Guatemala. In these areas, cantaloupes are often grown in small family gardens or on small farms. They are typically consumed locally or sold at nearby markets rather than exported to other countries.
In addition to the regions mentioned above, cantaloupes can also be found growing naturally in parts of South America, Asia, and Africa. In many cases, they are grown as a subsistence crop, providing a source of food for the people living in the surrounding areas.